A WORLD-CLASS COLLABORATION
Undoubtedly the greatest mountain athlete of all time, Kilian Jornet is a living legend who balances athletic grit with patience and humility. From setting the UTMB course record to executing two mind-blowing speed climbs up Mt. Everest within a week, Kilian holds some of the most prestigious titles in ultrarunning.
COROS is proud to partner with Kilian to present the COROS APEX 2 Pro Kilian Jornet limited edition. You'll get COROS' world-class training technology and navigation experience featuring Kilian's customized watch design and favorite accessories, for a unique collaboration like never before.
An homage to the snow-capped Norwegian mountains and majestic Romsdalen valley of Kilian's homeland, this limited edition watch features a crisp and striking white and black colorway.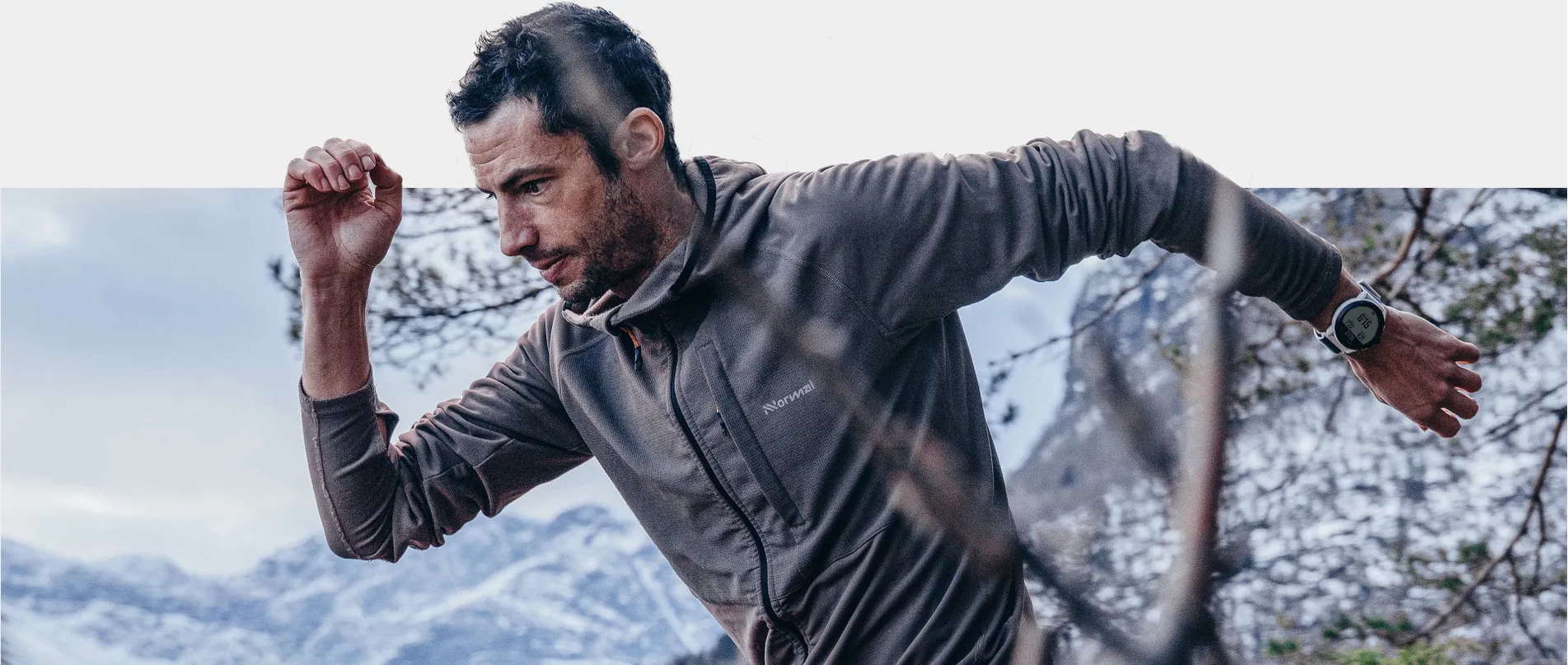 The APEX 2 Pro Kilian Jornet Edition comes with two watch bands versus the standard single band that comes with the original APEX 2 Pro. With the classic soft silicone band, or the lightweight nylon band to choose from, you can decide what's right for your next adventure.
Each watch comes with a lightweight, ventilated race cap (40 USD value) by NNormal, Kilian's athletic brand dedicated to simplicity and sustainability. United by a passion for exploring the outdoors and a commitment to quality, functionality, and durability, we are honored to work with NNormal to bring you products we fully believe in. Whether you're running through the fjords of Norway like Kilian, or hitting the roads for your next marathon, rock Kilian's look with a sleek new cap.
Designed for performance over all types of terrain, the APEX 2 Pro is built with revolutionary technologies for Kilian and your most ambitious goals. With an even more durable exterior, redesigned antenna, next-generation optical sensor, and longer battery life, you can go fast and far.
Understand how your body is reacting to recent training with fatigue and fitness insights.
Understand your past week's training loads and check if they are in the recommended zone.
Summarize the primary improvement of your run based on training load and intensity.
An estimate of how fast you are likely to run a 5k, 10k, half marathon and full marathon.
Manage your effort regardless of uphill or downhill slopes to better help your training and racing.
Receive feedback on the time needed to receive full recovery and to begin easy or hard training.
NO MATTER WHAT, YOU'LL BE PREPARED
With the beauty of the outdoors also comes risk. Stormy weather, 
altitude sickness, darkness, dehydration - these are all potential 
realities of trekking through the wilderness. 
The APEX 2 Pro 
Kilian Jornet Edition prepares you for any situation, so you 
can stay safe and informed while you power to the summit.
NUTRITION ALERT

SUN MOVEMENTS

STORM ALERT

CAMERA CONTROL

ALTITUDE MODE

NIGHT MODE
A self-described 360° mountain athlete, Kilian demands the best in navigation technology, which is why he chose the all-new APEX 2 Pro as his watch. With COROS global offline mapping, checkpoints, custom route planning, and more, you can go anywhere outdoors with confidence.
Stay one step ahead of the sun. Move quickly before it gets dark, or beat the early sunrise.
Get to know your course elevation changes before or during the activity.
Get additional motivation by knowing your distance to the next checkpoint or final destination.
Receive alerts when you are off-route with distance and heading info to get back on track.
Mark important locations such as water sources, aid stations, or gear stash points for future navigation.
Access your current GPS location, air pressure and estimated elevation.
Only 5,000 APEX 2 Pro Kilian Jornet 
Edition packages have been produced 
globally. Get this exclusive bundle 
before it sells out, so you can tap 
into your inner mountaineer.
- Package includes APEX 2 Pro Kilian Edition, nylon band, silicone band, NNormal race cap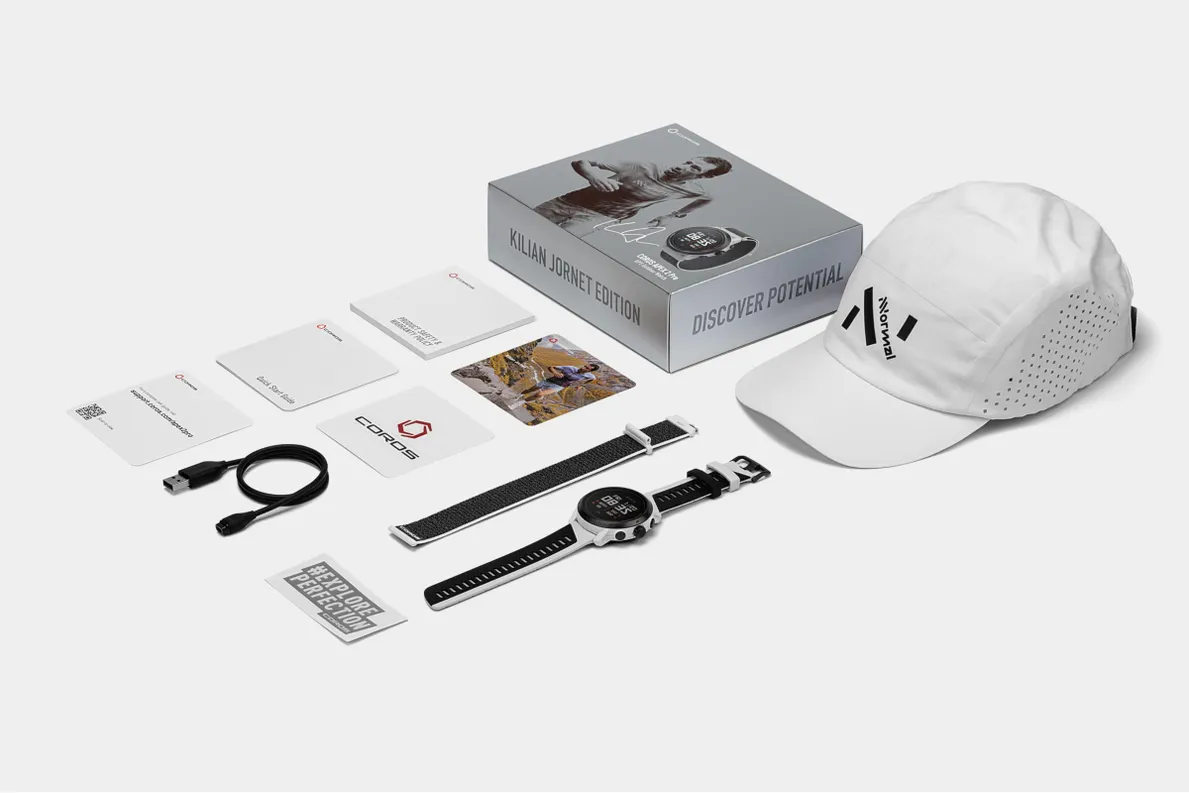 Touch Screen Always-On Memory LCD
Grade 5 Titanium Alloy With PVD Coating
Dedicated Backlight Button
Suitable for surface water activities and not for diving
-4°F to 122°F (-20°C to 50°C)
-4°F to 140°F (-20°C to 60°C)
Standard Full GPS 
(GPS/QZSS)
75 Hours 
Connects to GPS and QZSS
17 Hours (With Music) 
Connects to GPS and QZSS with offline music
All Systems On 
(GPS, GLONASS, Galileo, 
Beidou, QZSS)
45 Hours 
Connects to 5 satellite systems at the same time
14 Hours (With Music) 
Connects to 5 satellite systems at the same time with offline music
Dual Frequency 
(GPS, GLONASS, Galileo, 
Beidou, QZSS)
Connects to 5 satellite systems at the same time in dual frequency
Connects to 5 satellite systems at the same time in dual frequency with offline music
GPS, GLONASS, Galileo, Beidou, QZSS
All-Satellite Dual-Frequency
Downloadable Regional Maps
Touchscreen-Enabled Map Control
Optical Heart Rate Monitor ( 
May not work over tattoos )
Thermometer [
Supports body temperature in training (with compatible accessory)]
Action Camera Control ( 
Supports select GoPro and Insta360 cameras )
Altitude Mode ( 
Regular evaluation of SpO2 and fitness when at high altitudes )
Touch Scroll ( 
Swipe to scroll data pages during training )
Updateable Firmware ( 
With Wi-Fi and the COROS app )
Music ( 
Plays offline music when paired with supported Bluetooth headsets )
Komoot, TrainingPeaks, Strava, Relive, adidas Running, Apple Health, Stryd, Final Surge, Runalyze, Running Quotient, Decathlon
English, Simplified Chinese, Traditional Chinese, German, Spanish, French, Polish, Thai, Japanese, Korean, Portuguese, Italian, Russian