30升 OverBoard 防水背囊非常適合各種水上運動和戶外活動,可保護您的裝備,防水、防沙塵及灰塵的侵害。採用無縫高頻接合結構和卷頂密封系統,背囊100%防水,不怕快速浸沒水中,亦可將它從水中取出。
-100%防水背包 - 3級:IP66

Perfect for water sports and all types of activities, the 30 Litre OverBoard Waterproof Backpack protects your gear from water, sand, dirt and dust.
Thanks to a seamless high frequency welded construction and roll top sealing system, our backpack is 100% waterproof and suitable for quick submersion so you can take it out on the water.
Want to protect your precious laptop or tablet inside your waterproof backpack? Then check out our Backpack Tidy. 
- 100% waterproof backpack - Class 3: IP66
- Floats safely if dropped in water
- Protects contents from dust, sand, dirt and water
- High Frequency welded construction
- Padded shoulder straps and lumbar support
- Ventilated back panel with air-flow design
- Comfortable and buoyant light-weight straps
- Ventilated straps with reflective patches
- Adjustable sternum strap
- 3 x D-rings for multiple attachment options
- 1 x Large outer elasticated mesh side pocket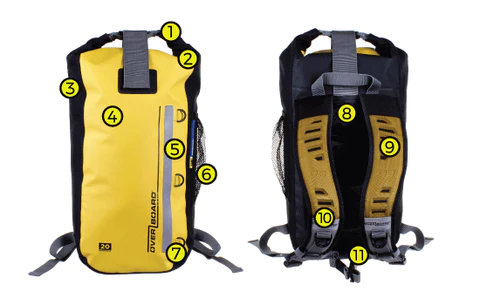 1.Top Waterproof Fold Seal System™ (IP66)
3.Extra tough PVC sides and base
4.Tough 600D PVC tarpaulin
8.Ergonomic and breathable back panel
9.Padded straps with air-flow design
10.Reflective shoulder strap patch × 2
11.Adjustable backpack and sternum straps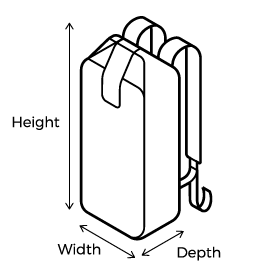 WATERPROOF BACKPACK - 30 LITRES
Capacity: 1800 cubic inches

Roll neck tightly towards the front of the waterproof backpack 3 times.

Bring ends together and buckle to securely fasten and create a waterproof seal.
1 x Classic Waterproof Backpack - 30 Litres
1 x Instructions / Care Guide